Complete Metal Fabrication
Celebrating 90 Years
About CCW
Established in 1927, CCW is a third generation family-owned business.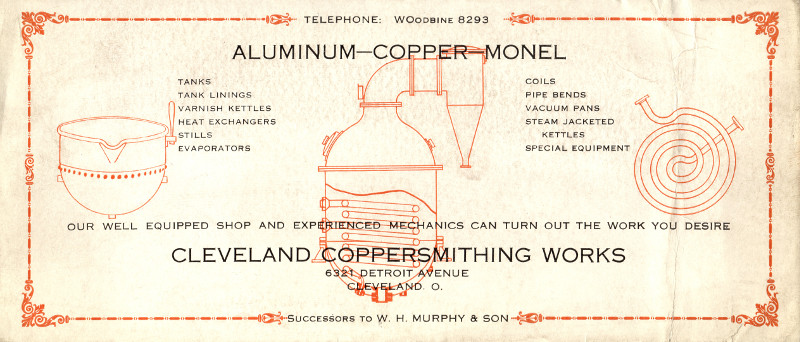 Cleveland Coppersmithing Works is a third generation family owned company established in 1927 with four generations of coppersmithing knowledge and expertise.
      We are a custom metal fabricator specializing in prototype equipment for the medical, aerospace, distillery and chemical industries. We work with a wide variety of ferrous and non-ferrous alloys, including nickel alloys, stainless steel, titanium, zirconium, and all copper alloys.
      We are capable of working with any metal to fabricate one off and limited production items to your design and specification. We have a fast turnaround for all you prototyping and production needs. We pride ourselves on quality and craftsmanship.
Services
Coppersmithing
    With over 125 years of accumulated tooling and knowledge our Company is capable of fabricating the most simplest of parts to complex large assemblies.  Our work is done by hand in order to make a superior product that will outlast its purpose.
Industrial
~Heat Exchangers~
~Induction Coils~
~Distillation and Brewery~
~Electrical Transmission~
~Coils~
~Chemical Process~
~Food Process~
Ornamental
~Bar-tops~
~Signs~
~Sculptures~
~Weather Vanes~
~Light Fixtures~
~Gates~
~Fountains~
~Handrails~
Bending and Coiling
    We bend all metals by hand either hot or cold. All pipes are filled so that the bend will be round and wrinkle free, bent to your desired radius and specification. Our company specializes in multi-layered induction and heat exchanger coils that combine cooling and conductor coils. We are capable of bending square and specialty shaped tubing ranging from zero to 8 inches O.D. schedule 5 and thicker.
Welding and Brazing
    We offer onsite brazing for repair or installation and also per hour welding in shop. Our welders have the capabilities of TIG welding copper ranging from thin foils up to over 1 inch. Our equipment includes dual 560-amp TIG welders in-order to weld any thickness. We are also capable of perfectly welding copper to stainless with our own proprietary processes developed for NASA during the space race.
Distillery and Brewery Equipment
    Since before prohibition our company has made distillation and brewery equipment for large and small companies alike. All of our equipment is custom designed and personalized to the customers needs. We offer repair and alteration to equipment to remove lead soldier, remove dents and fix leaking rivet seams. We are also capable of welding copper to stainless with our own process, which has been perfected from years of experience.
CNC Plasma Cutting
    We offer in house CNC cutting up to 1″. Let us make you a custom copper or brass sign for your business or home.
Contact
Cleveland Coppersmithing Works is determined to make our products the best they can be. We will work with you to create a custom solution that meets your exact need and specification. We look forward to working together with you and discussing your fabrication needs.

*Cleveland Coppersmithing will only manufacture distillation equipment
for licensed BATF/TTB holders.